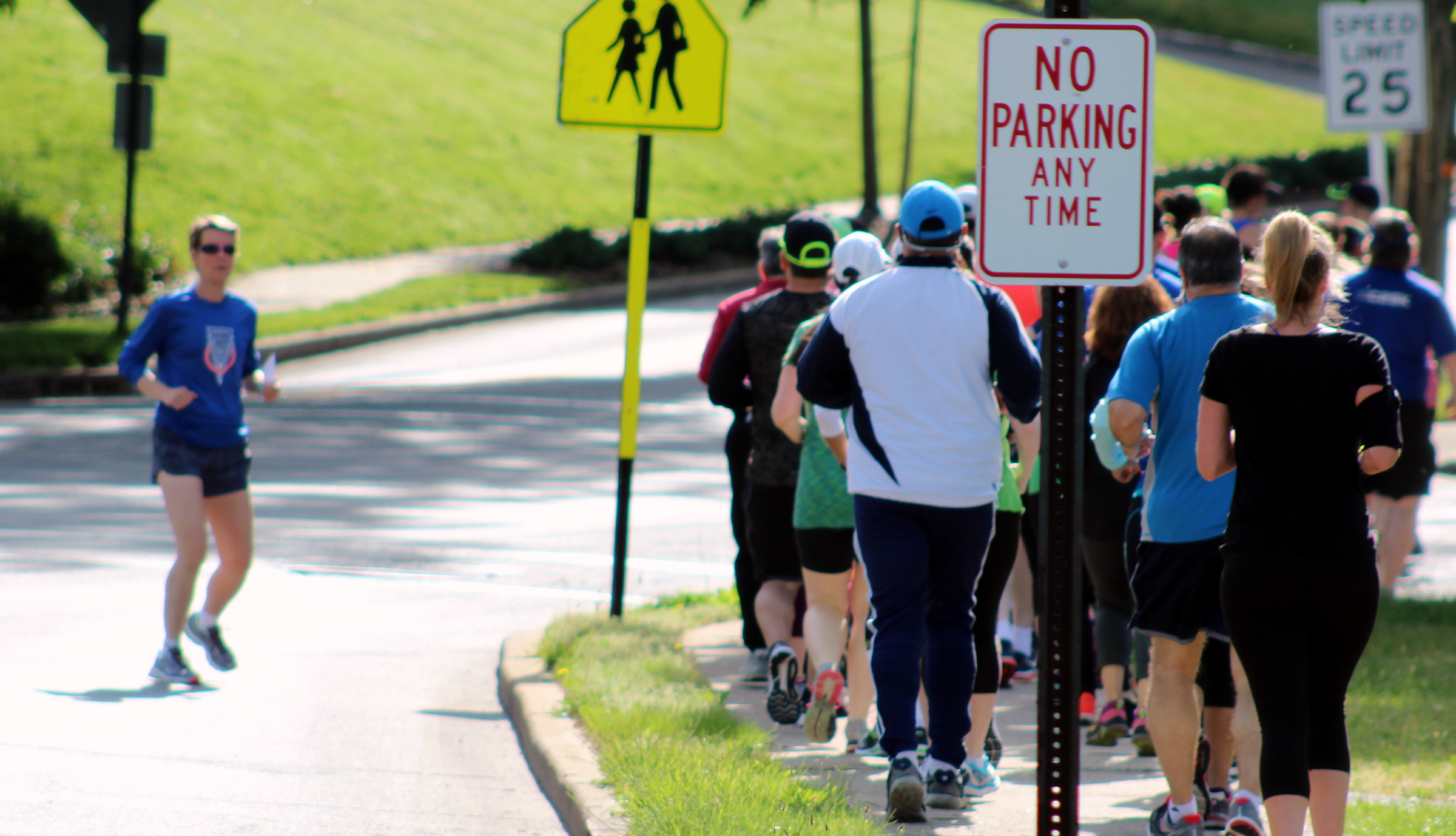 IN-SEASON WORKOUTS
While running is a year around and weather agnostic endeavor, most runners prefer to run when it is nice outside. The club considers the running season to be mid-March through mid-November each year. This is also when most of the running events seem to occur. We do not stop for winter, but the number of options for racing and working out are less.
Always check the home page of the website or Twitter for any last minute updates to scheduled workouts.
Interval Training for Speed: Spring/Fall Tuesday Night Track Workouts
Coached Speed workouts are held every Tuesday evening (Spring: March to May; Fall: September to October) at the Benjamin Franklin Middle School (NOTE: sometimes we move to Veterans Field in Ridgewood if there is a school athletic event that overlaps our scheduled time – Veterans Field is located on Maple Ave. behind the Ridgewood Public Library.) Announcements, Strides, and the workout will start at 6:15pm sharp. Arrive early to warm-up 1-1/2 miles. These workouts are held every Tuesday from March until June, and September to November. A major advantage of our club's size is that finding a group that will workout at your pace is highly likely: attendance at these sessions can exceed forty runners. See Tuesday Night Track Workouts below for a general explanation of this workout, and the Coach's Corner section which details each upcoming workout.
Lactate Threshold Training (Tempo): Spring/Summer/Fall Thursday Night Workouts
Coached Tempo workouts are held every Thursday evening at Veterans Field from March until the end of May. The workouts begin promptly at 6:15 PM.
A tempo run teaches your body to adapt to an increased intensity. By tempo running, you can accumulate a fairly high volume of relatively intense work that improves both the aerobic and lactate-threshold systems. This type of program benefits runners of all abilities.
Beginner Training: Spring/Fall Saturday Morning Workouts
Coached workouts are held every Saturday morning between 8:00am and 10:00am during the winter season. Locations include Glen Rock Duck Pond. A full schedule of locations, by week, is published before the start of each Spring or Fall season. These workouts form part of the Club's Beginner Program, designed specifically for beginners with little or no running experience. Given the focus on beginners the workouts are NOT open workouts and individuals need to contact the Coach prior to attending these sessions. In addition to the physical exercise – during the hour long session the Coach will discuss a number of important topics (e.g. hydration, running form, clothing, basic physiology etc). Runners are encouraged to attend all 10 workouts in a season. At the end of the program runners will complete the Ridgewood Run 5K (Spring) or the Paramus Run 5K or Harrington Park 5K (Fall).
Summer Tuesday Evening Workouts Interval Training
In the summer we move under the trees of the Dunkerhook County Park off Paramus Road in Paramus. Coached evening workouts are held every Tuesday evening at Dunkerhook starting at 6:15 PM sharp. They follow the same schedule and sequence of the Spring/Fall sessions. These workouts are open to runners of all abilities.